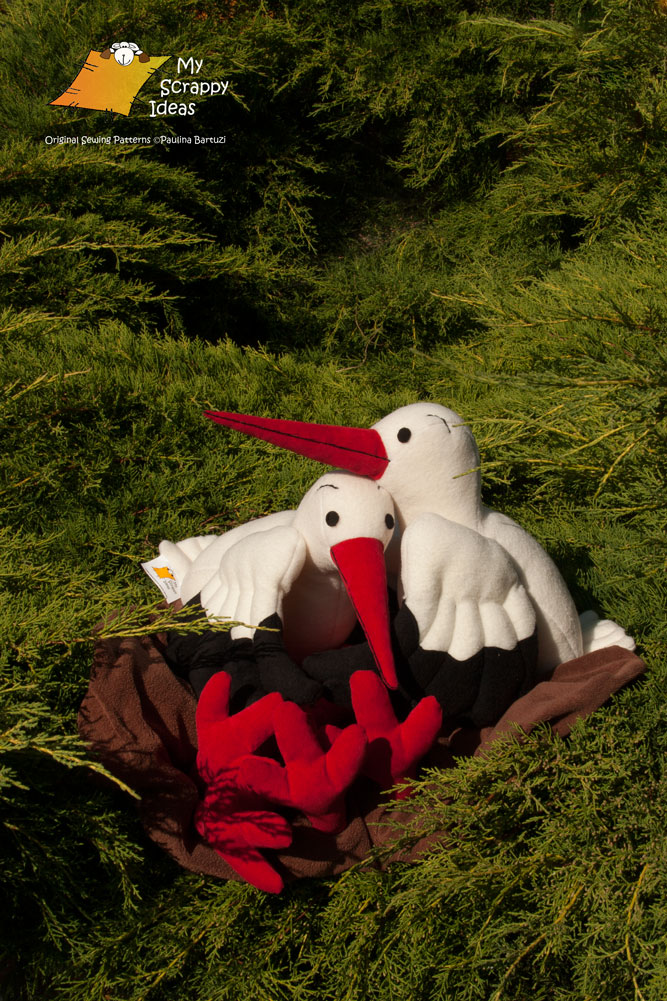 Storks are very graceful birds, whether simply standing tall or in motion, with their long broad wings, which flap only occasionally. For most people the immediate association is: "A White Stork is a bird that brings babies":). The basis for this legend is that European White Storks tend to nest on the roofs or chimneys of houses in the spring, which is a time of the year when many babies are born. And so the White Stork is a symbol of fertility and good luck.
But that has nothing to do with my reasons to create a White Stork toy;) Let me explain…
My home country, Poland, is very diverse with lots of beautiful places, where nature is still intact. It is also a breeding ground for many species of migratory birds that come to Europe in the springtime. It is estimated that as much as 25% (!) of the world's White Stork population is hosted by Poland, meaning that up to 40,000-50,000 breeding pairs live in Poland. Well, that's a lot!
And with early signs of autumn, these majestic birds migrate a loooong, long way to warm Africa for the winter. So when the first leaves fall from the trees and you see White Storks flying away… it feels a little nostalgic. Therefore to keep them here (at least as toys) for a little longer, I decided to bring the Stately White Stork toy to life.
Now let me officially introduce to you: the Stately White Stork!
As in real life, he is a long-legged beauty. Head, neck and body has white plumage, which contrasts with black wing feathers.
/Juvenile birds are slightly less "colourful" than adults, since their bills are rather blackish and legs are dull brown.  Both bills and legs slowly acquire the red color as the brids mature./
The Stately White Stork toy is approx. 55 cm / 22 inch high (standing) and it can serve as:
a great

Wedding gift

a cute

baby shower present

a

soft plushie / toy

for your child to play with
a

nursery room decoration

a

house decoration

for spring
a

summer reminder

in cold winter season
a

good luck gift

anything else that you can imagine:)
Important! The Stately White Stork toy has no choke-hazard elements, so it is safe for kids of any age!
Sewing pattern available HERE or HERE!!!