Winter Snowman is very special for me, since he was my first design.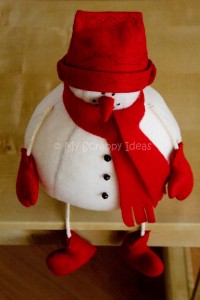 He is soft with a very warm heart, a perfect remedy for the cold winter season. Winter Snowman is not too big and not too small, about 25 cm (10 inch) sitting. He can sit over the fireplace or sit cozily around your books on the shelf.
Materials that you will need to make this toy :
57 x 30 cm  / 22,5 x 11,8 inch piece of white fleece
40 x 54 cm / 15,8 x 21,3 inch piece of red (or other desired colour) fleece
3 glass beads or buttons
approx. 50 cm (20 inch) of 3-4 mm (0,15 inch) cotton cord for legs and arms
toy stuffing

sewing essentials like: pen for tracing pattern on fabric, scissors, threads, pins, standard machine-foot, white and red sewing thread, black thread for hand sewing eyes, mouth and glass beads, needle, etc.
The sewing pattern that I prepared comes along with an easy to follow 10-page photo tutorial including very detailed instructions on how to make an own cuddly Snowman.
Pattern and tutorial is available to get here:
Craftsy:     (click on the image below to go to the Craftsy website)