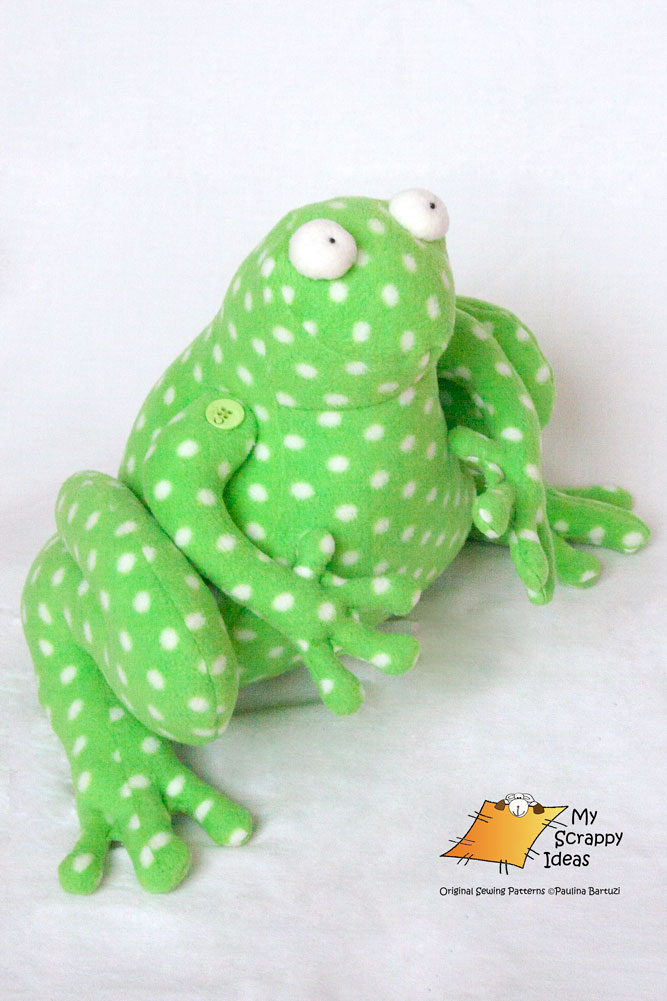 This is Ribbit the Fearless Frog. On first sight you might not recognize it, but believe me when I say that he is a very loyal guard and can be a partner for your kid in many childhood fun activities.
Ribbit the Fearless Frog Softie can be made out of fleece (as in the pictures) together with a small carton board on which you can put anything you like:
from a welcoming message through some funny joke to amuse your Guests to some nice birthday wishes (if it's meant as a present).
And even better: you can change the message card anytime you feel like!
Ribbit the Fearless Frog has many faces. That is because he can be anything out of the following:
a very soft and cuddly plushie; a terrific friend for your child during endless hours of fun
unbelievably cute door stop, guarding any desired room
decorative item somewhere in your hallway; to make your Guests feel at home
or a welcome gift that for sure will not only immediately make a way to your friend's house, but certainly to his/her heart as well!
and last but not least: a frog is always a clear sign of spring!
Uff, that's a lot for a cute froggy like Ribbit the Fearless Frog 😉
Here are some details about him:
He is 25 cm / 10 inch high and 40 cm / 16 inch wide. His hind legs are permanently attached to the trunk, but with his movable arms he can definitely hug you …. or something smaller then you, anyway.
That's because his arms are attached using button joints, a quick and fun way to customize a handmade creature.
And with his googly eyes… gee… he's stolen my heart immediately. How about yours???
You can get the pattern and tutorial HERE or HERE.
And some photos in the natural habitat 🙂